This is me playing around with different mediums and illustrative abilities.
I was walking around my small town last summer. While much of the town is very beautiful and "kept," there are some parts where long stretches of dirt and refuse seem to populate much of the street. As I walked down one of these stretches, I was surprised to find myself all of a sudden face to face with a patch of tall, bright sunflowers. They appeared completely unattached to any property or person.

It put a smile on my face to think that someone out there had put a bunch of seed down in such a random place to add a little beauty to the area. That is love, to add beauty to the world without any need or desire for recognition. Recently, a friend pointed out that the tree near the patch may have been a popular spot for birds to sit (and poop out seeds). If that is true, then I find beauty in that! Good job birds!


Artistically, the one on the left once again got too busy. Too much information- but I was curious how the flowers might pop against the black of the road. I think it ended up taking away from the beauty of the overall piece. So, attempt #2, I zoomed in. I wanted to keep the information about the sidewalk because the story is what makes my experience unique... how many other paintings of sunflowers are out there because they are beautiful? Thousands (millions?).

Q: What have you seen recently that was an "accidental" act of beauty?
Powered by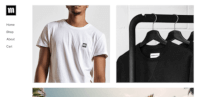 Create your own unique website with customizable templates.