This goat is here to remind us all that books are a healthy part of any diet!

No, but really.

It seems like it is so easy to take in media and not read anymore. I, for one, lost the art of reading after college... where literally most of what I did was read (shout out english lit!). But recently, I have started inhaling books again, and remembering the magic of how much you can learn from them. I can't seem to get enough. Fiction, non fiction, all of it.

My recent reads:

Deep Work

by Cal Newport. This book changed my life... its about living in a distracted world where we are constantly busy and connected, and how to break out of that in order to get real work done. It has helped me create serious balance and push towards new ideas and meaningful work. I still have a lot to do, but this book is a serious must read for anyone... especially anyone doing work that requires long hours of thought and concentration.

Man's Search For Meaning

by Viktor E Frankl. Basically, he was a psychiatric doctor who ended up in concentration camps. He used his psychiatrist's eye to almost distance himself from the reality of what was happening around him. Eventually, his observations led to his psychological theory, Logotherapy. Logotherapy is based on helping patients and people find meaning.

One interesting point he brought up about our culture today is that with all the conveniences and automation we experience, the more time we have on our hands. That time can lend itself, unhealthily, to what he calls an existential void. Thus, people feel depressed or sad despite how relatively "good" they have it. His solution to the existential void is to live for a purpose, which is often other people (whether doing good things or being responsible to someone.)

I highly suggest this book! The details of the concentration camp experience are subtle, and he focuses more on the people in (and operating) them. The first half is his recalling and observation, and the second half is his theory. It is quick (4 hours audiobook!) and powerful.

The other one I just finished up was

The Girl who Circumnavigated Fairly Land in a Ship of Her Own Making

by

Catherynne M. Valente

. It was a wonderful tale about a fierce little girl named September. I won't go into too much detail... but what I loved about this book was entering a wonderful, imaginative world where bicycles run in herds and streets are made of yarn.

And, last but not least,

Tribe of Mentors

by Tim Ferriss. All the inspiration and insight you could need in one place.

Q: What books have you read lately? Any good recommendations?

Cheers!
Powered by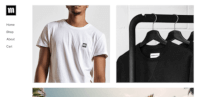 Create your own unique website with customizable templates.