I have been spending a lot of time playing with different elephants and how I might be able to illustrate them in action. I'm not certain that they will be in every Elephant Shoes illustration, but I like to think they will. Anyway, I finally came up with this guy. Very simple, very adorable. Again, just the beginning, the discovery, but I think I am in love.

Sometimes, it is nice simply to listen to a person's story in order so that they have a chance to remember and relive it. Even if you've heard it before.

As a shop owner on the corner near the senior center, I often find myself listening to stories that are pretty much, if I'm being perfectly honest, feels like a waste of MY time. Except, I have come to realize that giving that time to someone so that they can tell a story is completely invaluable and not a waste at all. It is especially apparent with people who are higher in their years, but it is important with people of all ages. Giving them a few minutes to hear their story is a great gift of love. I have friends that will tell the same story a few times, and if it is a good one, then I enjoy each retelling. If it's not my particular taste, I still listen like I've never heard it before, because clearly, they love something in it, or they are working through something in it.
​
I do think, sometimes, I have found a person (or they have found me) that takes a little too much of my time-giving, ear-listening love. So it is important to make distinctions between when I can and when I cannot. (For example, if someone stops by regularly, unannounced, and proceeds to spend an hour of weaving unpleasant and strange stories about every small thing they can think of that is wrong with their lives... I will generally find a way to say "No more," as an act of self love.

Q: Is there a particular story you know you tell others? Do you know why you like to repeat it? What is it, lets hear it!
Powered by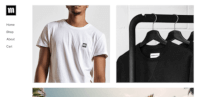 Create your own unique website with customizable templates.